When we think of art pieces to put up on our room walls, the first thing most of us think about are those classic works of art that are part of exhibitions in well-known art galleries and national museums. All at once, most of us would be dissuaded to pursue the thought any further as such pieces are known to be quite expensive and well above our budget. However, there is a different way of going about it that will still allow us to enjoy beauty on our walls without hitting the roof with our decoration expenses. Here are few ways to enjoy modern canvas art in a less exorbitant fashion:
1. Look for great-looking photos and convert them into large prints. It is very possible that during the course of many years of taking an abundance of shots, some of these were able to manifest the inner artist in you. If you are quite interested in the craft, you can consider taking more practice shots every opportunity you get. Naturally, with regular practice and taking note of photography tips you get online or from professionals, you can expect your skill to improve and your pictures will get better and better. Soon enough, you'll be producing prints almost like the ones your favorite professional photographer release. Through this method, you not only get to have wall art for a fraction of the cost, you also get to enjoy bragging rights over your own work of art.
2. Look for pictures by unknown artists. Just because what gets highlighted online are works by world-renowned names like Michelangelo or Monet, it doesn't mean that the works of less-famous artists don't have any value at all. In fact, by picking out a picture that is done by someone relatively unknown, you can be assured that very few or no one else in your social circle has a similar piece being displayed on the walls of their own homes. Rather than look at the name of the person who made the picture, buy art prints online that aesthetically appeal to you. Find the one that stirs something in your soul and that could be the piece for you. Naturally, you won't be paying as much as the works done by the art masters.
3. You can also go to auctions and garage sales to check out if there are any art pieces being sold that could work well with your existing decorations. Most homeowners are desperate to dispose of their goods, so you could actually get a lot of goods at bargain prices from these events.
4. Consider taking up painting and creating your own work of art. Some art lessons will teach you how to render your own version of some of the existing classics, so if you want to have Vincent Van Gogh's Sunflowers on your wall but can't afford the original or an official print of it, why not do it yourself? You not only get the art piece you want, you also get to learn a new skill and meet new friends.
Ben Goldstein is a freelance writer who specializes in fashion, lifestyle news, arts, and culture. He blogs for
http://www.lemontreeart.com.au
, a website about art prints for art aficionados.
5 Tips For Transforming Your Hobby Into a Business From 'The Toy Hunter'
"Do what you love and the money will follow." Entrepreneurs have heard this advice countless times through the years. What's wrong with it? Most people who try to turn their leisure pastimes into a business fail at it miserably. They end up with a big, expensive hobby, not a successful small business.
Then there are the lucky few, who successfully combine their passion with business smarts and create an income that revolves around something they love.What makes the difference? A great example of how to run a hobby-based business is on Travel Channel's new show, Toy Hunter. The show follows toy dealer Jordan Hembrough as he combs through toy-collectors' attics, garages, storage sheds, and basements in search of valuable collectible toys. Clearly a toy nut himself -- his t-shirt proudly proclaims "still plays with toys" -- Hembrough relishes spending his days perusing the toy bins for valuable gems. Here are five tips for turning your hobby into a business inspired by the way Hembrough has made his toy mania pay:
1. Buy right.
Know the true value of your product, and be willing to set aside your own wants. Keep your hobby-self in check, or you'll end up with a closet full of unsalable stuff.
Sometimes collectors counter-offer and want Hembrough to pay more for their toy. He will often pass on the purchase because he knows what toy collectors are willing to pay for that particular item in that condition. He might be dying to own that toy, but he stays focused on the profit-and-loss realities.
2. Cultivate supplier relationships.
Opt for building a strong relationship over making the biggest profit. Hembrough isn't out to rip off toy collectors, as he's hoping to come back and visit them again to make more purchases. He approaches each collector with respect, and always asks each time, "Are you willing to sell me this?" before he names a price.
3. Stay on top of marketing.
Getting you message out is just as important as having good products. When Hembrough takes a risk and makes a big purchase, like a Star Wars pedal car from the 1980s, he calls his assistant from the road to get her started making marketing calls immediately. With a higher-ticket item, it'll take more marketing to find a willing buyer, so he gets right to it.
4. Watch the cash flow.
In the collectible business, it's important to make sure you don't tie up too much money in inventory, or soon you don't have grocery money. Many of Hembrough's toy purchases are under $20, but the Star Wars speeder was a $750 purchase -- all the more reason to find a buyer quickly to get that cash liquid again to cover bills
5. Stick with what you know.
Toy collecting is a huge arena with many areas of specialty. Hembrough smartly sticks with what he knows best and has cultivated a customer base for -- classic TV and movie-related toys, primarily from the 1980s.
Meet an Artist who Turned a Lifelong Hobby
into a Profitable Mural Painting Business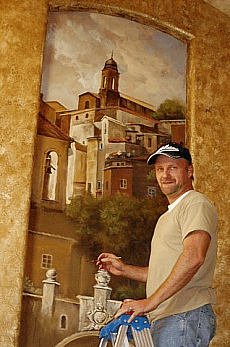 Born and raised in Poland, Darek has been painting
and drawing for as long as he remembers.
"I remember watching American Western Movies
on our Polish TV and drawing Native Americans,
cowboys, covered wagons and herds of buffalos
when I was 5. I've been actually doing this for years,
till I was in high school. Wild West was really fascinating me,
I think mainly because it was so different from what we
were experiencing under Communism in Poland in 70's."
Darek Sokol who now lives in Colorado never thought he
will be painting his Polish (and European) themed murals
in American West, bringing Americans a taste of his Polish
culture, art and architecture.
Darek Sokol
- European Painter
ph. 719-432-9547
www.EuropeanPainter.com